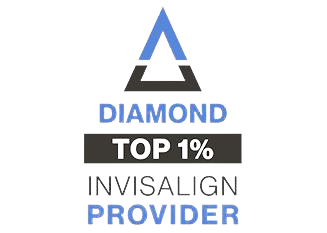 Live Life Smiling
Schedule a Free Consultation.
No Referral Necessary.
"Sometimes an orthodontist's office can be fearful to people. This office doesn't have that kind of environment."—Curt
WE ARE A TOP 1% INVISALIGN PROVIDER!
Everyone wants a stunning smile. Now there's a way to achieve those beautiful and straight teeth you've always wanted WITHOUT wearing braces! Have you considered Invisalign aligners to design your dream smile?
What is the Invisalign System?
Invisalign clear aligners are the subtle way to correct your smile without traditional braces. The Invisalign system is a custom-fit series of clear and removable aligners. Dr. Lee uses 3D scanning technology to produce a series of aligners that will best serve your individual smile needs.
Custom-fit aligners fit over the teeth and can be easily removed and replaced by the patient anytime. They should be worn for about 22 hours each day and removed for eating, drinking, brushing, and flossing. You will dispose of your aligners and begin wearing the next set in your custom-made series of Invisalign aligners every week or as directed by Dr. Lee—allowing your teeth to progress towards their optimal positions.
If you're hoping to smile both during and after your orthodontic treatment, Invisalign clear aligners might be right for you!
What are the Advantages of Invisalign Aligners?
Why should you choose Invisalign treatment over other orthodontic options? Invisalign aligners may not be the right choice for everyone, but many patients are enjoying a more comfortable and convenient experience with these invisible braces. Some of the advantages of the Invisalign treatment are:
Invisalign aligners are clear, so you can improve your smile without anyone even noticing that you are fixing your teeth!
Invisalign aligners are removable, so you can continue to eat and drink whatever you want! You can also continue to brush and floss normally.
Invisalign aligners are comfortable, without bulky brackets or wires to irritate your cheeks and gums. There's no need to carry wax around when you wear Invisalign aligners.
Invisalign aligners are effective, so you can expect beautiful and long-lasting results.
My dentist recommended Dr. April Lee for my Invisalign and it was such an easy process and I am so satisfied with my results! From Day 1, the staff has been nothing but nice and welcoming to me. Cindy was amazing helping me with my payment plans. I'm finally done with my Invisalign trays and I love the results! I recommend them to anyone! 🙂
Kimberly
How Long Does Invisalign Treatment Take?
The length of your treatment required to straighten your teeth can be estimated during your initial consultation. Treatment time varies from patient to patient – it can take as little as six months to as many as thirty-six, depending on your individual needs. Thus, it is best not to have a timeline in mind until after we see you.
Who is a Candidate for Invisalign?
Even though they have a low profile, Invisalign clear aligners are extremely effective and can treat one or more of the following orthodontic conditions:
Underbites
Overbites
Crossbites
Crowded teeth
Gap teeth
Rotated teeth
Misshapen teeth
And more!
Dr. Lee is an excellent orthodontist. I was always told I would need regular braces and I could not use invisalign. Because of her expertise I am using Invisalign with great results. She is extremely professional and she has an excellent bedside manner. Her staff is likewise exceptional and very friendly. It is always a pleasure to visit her office. I highly recommend Dr. Lee and her excellent staff.
Ann
Why Choose Burlingame Orthodontist Dr. April Lee for Invisalign Treatment?
Along with her total commitment to her patients' needs, Dr. Lee also proudly uses the latest technologies in the field of orthodontics. One such technology is the iTero Intraoral 3D Scanner. The device emits no radiation or x-rays and enables Dr. Lee to create a complete 3D model of your teeth. This eliminates the need for an antiquated physical mold made with goopy silicone putty. Patients with strong gag reflexes loves how much easier digital impressions make the Invisalign treatment process.
To learn more about what sets Burlingame Smile Studio apart, including a state of the art facility and stringent office safety protocols, click the button below:
Learn What Sets Us Apart
Want Straight Teeth? Schedule an Invisalign Consultation in Burlingame!
Dr. Lee would be happy to help you decide if Invisalign clear aligners are right for you during a complimentary smile consultation. To schedule a consultation simply call, text, or email Burlingame Smile Studio today!