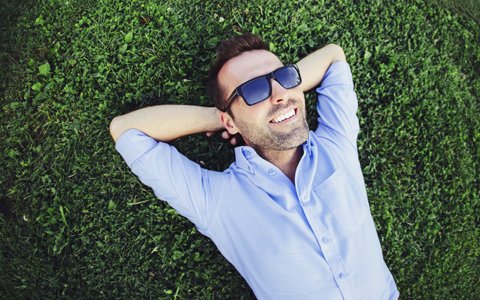 Some patients are intimidated by cleaning and maintaining their braces properly at home. Dr. Lee will point you towards the most efficient ways to keep your smile clean and healthy while you wear braces. 
Maintain Your Dental Hygiene
Once you develop a habit of caring for your braces correctly, it doesn't have to be difficult. Orthodontic maintenance can become a seamless part of your daily routine.
Brushing: Brush your teeth often with a gentle toothbrush and toothpaste. If you are wearing metal braces, brush the brackets and wires along with your teeth. Pay special attention to brush along the gumline, as plaque and food will frequently get trapped between the bottom of the bracket and the gums. For an Invisalign treatment, remove your aligners, then brush your teeth and aligners.
Flossing: With metal braces, push your floss up behind the wire and floss your teeth thoroughly. With Invisalign aligners, remove your aligners and floss your teeth normally. It is crucial to floss every day to avoid bad breath, plaque buildup, and tooth discoloration.
For step-by-step instructions or more detailed information about proper hygiene techniques with your braces, refer to our Brushing and Flossing page. 
Though you'll come in for regular checkups, remember it is ultimately your responsibility to keep your teeth and braces spotless clean throughout your treatment!
Perform Regular Check-Ups
Check your braces once each week for anything loose or bent. If you notice a broken or loose bracket, band, or wire, please call our office so that we can schedule an appointment. Do your best to be specific about what has happened to your braces so that we can be prepared to repair them.
What About Sore Teeth?
After your braces placement, you may experience some soreness for a few days. Take over-the-counter pain relievers like Tylenol or Advil to ease discomfort—always avoiding any medication that may cause an allergic reaction. 
Use wax over brackets or wires that may be bothering you.
Most patients adjust to braces quickly and feel comfortable throughout treatment. If you feel anything sharp, you begin to develop sores, or you are still uncomfortable after a week with braces, please contact our office so that we can assist you!
Wearing Elastics
If Dr. Lee provides you with elastics or other appliances to wear with your orthodontics, be sure to wear them according to her specifications. Elastics should be worn all of the time and changed every day. Any time missed in wearing your elastics will lengthen your treatment time. We suggest that you:
Remove elastics when brushing your teeth after meals, then replace them immediately
Always have a few elastics on hand in case one breaks
Elastics become worn out, so change them as directed
For more detailed guidelines, see our page on Elastics Instructions. The better you follow Dr. Lee's home care instructions, the sooner your orthodontic treatment will take effect. And the sooner we can take the braces off to reveal your beautiful smile!
Common Problems and Solutions 
Even when you do your best with home care, sometimes accidents occur or unexpected problems arise. Here is a quick guide on what steps to take if any of the following occur:
Loose Band or Bracket | This means the seal created by the dental cement (glue) has been broken. Call our office and schedule an appointment. If the band or bracket detaches from the wire, save it and bring it with you to your next appointment.
Broken Archwire or Headgear, Lost Ligature or Hook | These problems could cause the teeth to shift in the wrong direction and must be corrected as soon as possible. Call our office and schedule an appointment.
Poking Wire | This is the term for a wire that sticks out and causes irritation. Try tucking it in with the eraser part of a pencil. If that doesn't work, dry it with a napkin and place wax over the wire to prevent further sticking: you can view a video on how to apply wax at the bottom of this page. 
Soreness in Teeth | To relieve soreness, rinse your mouth with warm salt water and/or take Advil or Tylenol as directed on the bottle. Always avoid medications that could give you an allergic reaction.
If you have any other problems with your braces that are not mentioned on this list or addressed in the videos below, call our office right away! Refer the helpful diagram below so you can more accurately identify and describe your problem to us.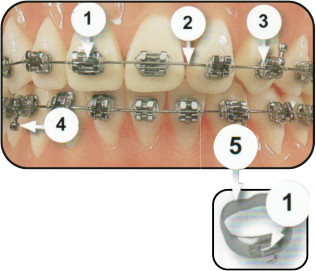 Bracket: The attachment bonded to the tooth or welded to the band.
Archwire: A large removable wire that fits around the arch into the bracket slots.
Elastic Ligature: Plastic ring that ties archwire into bracket or
Ligature Wire: Tiny wire that ties archwire into bracket
Hooks: Used to attach elastics (rubber bands)
Band: A ring of metal with the bracket attached that is glued onto the tooth
When you call our office, we'll do our best to help you find the problem and take the next steps to fix it. 
Our Friendly Staff Is Eager to Help!
Thank you for choosing Burlingame Smile Studio for your dental needs. You can refer to the videos below for quick reference of common topics.
If you ever have questions about your at-home care routine, or believe your braces are broken, please give our office a call! 
How to Complete Virtual Observation or Retainer Check
How to Apply Dental Wax to My Braces
How Do I Apply Rubber Bands to My Braces
How Do I Floss With Braces