Skilled Orthodontist in Burlingame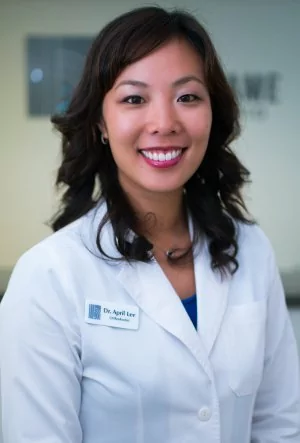 Dr. April Lee is a certified specialist in Orthodontics and Dentofacial orthopedics. She received her undergraduate degree in Biology from the University of California at San Diego, her Doctor of Dental Surgery degree from the University of California at San Francisco, and her Orthodontic and Masters of Science in Craniofacial biology from USC. Dr. Lee is an expert in Adult and Children's Braces and Invisalign and has been creating beautiful smiles in the bay area since 2008.
Dr. Lee's practice philosophy is to ensure that every patient who comes to meet with her for an orthodontic consultation feels listened to and well taken care of. Every patient's concerns and goals for improving their smile is unique and Dr. Lee strives to make sure that each person's treatment plan is individualized. There is no question too big or too small that she cannot answer for you.
Having grown up in Southern California, Dr. Lee has made the Bay area her home for over 15 years now. In her free time she is busy with DIY projects around the house and playing with her young son and puppy Teddy, a mini labradoodle who is the office mascot! She is also a big "foodie" and never tires of trying the constant influx of amazing new restaurants in the local area and San Francisco.
Dedicated to constantly improving her skills as an orthodontist, Dr. Lee often travels to continuing education courses. She also is a leader in her community and is currently serving as a board member of the local San Mateo County Dental Society. Dental society board members organize continuing education courses for local area dentists as well as facilitate many community outreach projects such as free community dental health screenings and the wildly successful CDA cares. A recent CDA cares was held here in San Mateo and involved thousands of volunteers who provided several million dollars of free dentistry for people in need in our community.
Testimonials About Burlingame Orthodontist Dr. April Lee
Here are some nice things patients have said about Dr. Lee:
"This place is very new and clean on the inside. The staff is SUPER friendly- not what you expect for an orthodontist office, they make you feel very appreciated and welcomed. Dr. April Lee is very nice and professional. My fiance is starting invisalign treatment there soon and looks forward to great results."  S.W.
 "I highly recommend dr. Lee she was great at explained everything to me." K.M.
"easy to get to; the wait time was probably at most 2 minutes. It would appear Dr. Lee was not stretched so thin to see multiple patients. I also felt I had more of a one on one experience with Dr. April Lee. She was great! …I'm a very satisfied/happy customer. I have the perfect smile to prove it! ? "  E.S.

"Dr Lee's work is great … I would definitely recommend her" A.B.
Professional Affiliations
American Association of Orthodontists
American Dental Association
California Dental Association
Pacific Coast Society of Orthodontists
San Mateo County Dental Society