One of the Fastest Ways to Straighten Teeth
Dr. Lee is pleased to offer her patients In-Ovation System Braces. The In-Ovation system is an innovative way for our patients to achieve the radiant smiles they have always wanted. Not only will our In-Ovation braces give you beautiful results, but they do so without ties or elastics.
Many patients avoid or dislike the old traditional twin braces because the ties and elastics make them uncomfortable. These orthodontic components can be unsightly, uncomfortable, and unsanitary. They also require more frequent tightening visits which increases patient discomfort during treatment. In-Ovation brackets will allow for cleaner, faster, more comfortable results with fewer visits to the office.
In-Ovation uses light and gentle forces without ties or elastics to give you a beautiful smile. Your path to a perfect smile can be faster and more comfortable than you ever thought possible with the help of In-Ovation System Braces.
Enjoy Freedom with In-Ovation Braces
Traditional braces incorporate elastics and ties to put pressure and friction on the teeth. This process can cause discomfort, and can even slow down treatment time.
In-Ovation System Braces allow teeth to move freely and easily. In-Ovation braces reduce patient discomfort and wear time, and they are available in metal or clear styles!
In-Ovation Mini Metal: In-Ovation Mini Metal braces are similar to metal braces, but they keep a lower profile than traditional train tracks. Our Mini Metal braces are small and flat, and minimize irritation and sensitivity. It's also much easier to keep Mini Metal braces clean than traditional braces, so you can discover a beautiful and healthy smile immediately after treatment.
In-Ovation Clear: In-Ovation Clear braces are translucent, ceramic brackets that provide a more professional aesthetic. Clear braces are less noticeable to everyone around you, and because In-Ovation braces are so comfortable, they are even less noticeable to the wearer!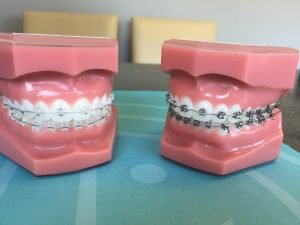 With In-Ovation, You Can Benefit From:
Beautiful results sooner
Shorter and pain-free appointments with your orthodontist
Fewer visits to the office
Increased comfort during the orthodontic treatment
Improved facial proportion and appearance
Greater comfort during every step of your orthodontic process
Schedule a Consultation for In-Ovation Braces in Burlingame!
Are you a candidate for fast-acting In-Ovation braces? Dr. April Lee is here to help you evaluate your orthodontic treatment options. For children's or adult orthodontics, simply call, text, or email Burlingame Smile Studio!