We know that choosing an orthodontist is a very personal decision. There are many orthodontic offices and treatment options available to you. Here are just a few details about our office that describe what sets us apart.
Excellence in Orthodontics
We provide our patients with the highest quality orthodontic care in a personal, professional environment. Getting to know you and meeting your individual orthodontic needs are our foremost concerns. We tailor each individual treatment plan to achieve your desired results.
One Orthodontist, One Office Location
We have one office location and one orthodontist. You can count on Dr. Lee's personal attention at each and every appointment.
New State-of-the-Art Facility
All the equipment and facilities at our office are new and maintained in the best of conditions with a rigorous maintenance schedule.
Easy In, Easy Out
Our ample parking lot allows patients and their families easy and stress free access to the office. We are also conveniently located near Burlingame Shopping Center, so you can run a quick errand while your child is being seen for his or her orthodontic appointment.
Complimentary Initial Exam
Every patient gets a complimentary and comprehensive explanation of treatment needs on the first visit. Dr. Lee personally discusses her findings with you.
Leading Edge Technology for Comfort and Ease
Our office is technologically advanced in the field of orthodontics. Thanks to Dental Monitoring, we can virtually monitor your treatment. You can have your regular checkups at home or on the road, and only come into our office if something needs fixing.
Our in-house digital photography and x-ray machines enables us to take records immediately—eliminating the need for additional appointments with an outside lab. It allows us to take initial, progress, and final records so that we can provide the most optimal finishes and results.
Digital x-rays also produce 80% less radiation than the traditional variety, often delivering an image with better overall clarity and diagnostic information that is also much safer for our patients. They also eliminate environmentally hazardous waste which is created by traditional film-based products.
One of our new technologies is our iTero Intraoral 3D Scanner, which emits no radiation or x-rays. It takes over 6,000 scans per second and creates a complete 3D model of your teeth making it easier to explain procedures, see the progress of orthodontic treatment—plus, this digital scanner completely eliminates the need for uncomfortable, goopy alginate impressions!
We Utilize the Latest Orthodontic Technological Advancements Available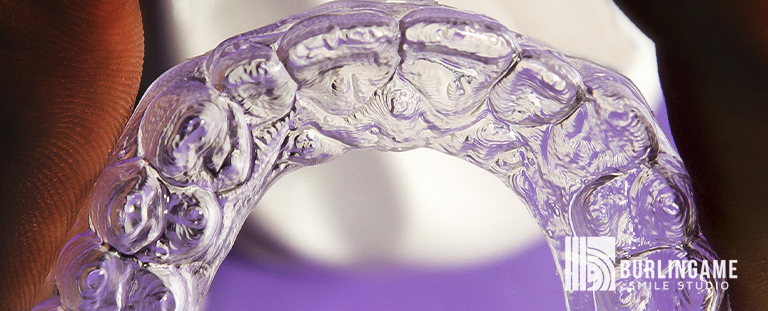 There are new and exciting treatment modalities in orthodontics. In the past, orthodontists would use heavy forces to move the teeth. Today in orthodontics, we utilize light forces and low friction to move teeth faster and more gently than ever before. The results are outstanding!
You'll benefit from our use of these latest technologies such as self-ligating In-Ovation braces, and Invisalign clear aligners, which improve your orthodontic experience in the following ways:
Treatment is much gentler, making your orthodontic experience much more comfortable.
Appointments are typically 6–12 weeks apart.
Clear braces and Invisalign aligners are available for a more discreet orthodontic option.
Office Safety Protocols
MOST orthodontic offices are OPEN BAY, meaning all patients are treated in a wide-open clinic where airborne viruses and bacteria can be free floating from one patient to another, even with normal conversation.
At our office, we have PRIVATE treatment rooms with DOUBLE air filtration. We also have installed Negative Pressure units similar to those used in hospital operating rooms to keep our air clean and prevent any bacteria or viruses from circulating.
Additionally, below are just some of the other safety enhancements put in place to keep you and your loved ones safe while improving your smile.
Personal Protective Measures
Online Pre-Registration and COVID Screening Forms: These are available through our website to minimize the time a patient is in the office, as well as to make sure all health screenings are checked prior to their appointment date.
Tele-Dentistry: Available for some consultation and follow-up appointments to minimize the number of in-person visits.
Dental Monitoring: Take-home scan boxes & retractors for patients in treatment wishing to have weekly feedback on the progress of their orthodontic treatment utilizing scan technology. Patients take scans with their smartphones and scan boxes, the information is reviewed by our staff & Dr Lee, and updates are related to them weekly. This reduces the number of in-person office visits and helps us keep a closer eye on their orthodontic treatment.
Reduced Visits: Consultation and orthodontic treatment starts in the same appointment whenever possible to avoid the need for multiple visits to the office.
Social Distancing: We are staggering appointment times so that only one patient is checking in at a time.
Facial Covering: Per CDC and California state requirements every person entering a dental office will need to have facial covering.
Temperature Readings: Everyone—patients, staff, and doctors—will get their temperatures taken on a daily basis, using a touchless thermometer, upon entering the office.
Hand Hygiene: This is required of everyone upon entering the office via hand sanitizers or traditional hand washing with soap and water.
Hydrogen Peroxide: Each patient will rinse with an antiviral hydrogen peroxide solution before their appointment.
Testing: All staff and doctors have been tested for COVID prior to re-opening the office and vaccinations of all staff are ongoing.
Engineering Controls
Frequent disinfection of common area and high contact surfaces with EPA certified medical grade antiviral and anit-bacterial products proven effective against the Human Coronavirus.
Negative pressure rooms similar to those utilized in hospital operating rooms to treat patients with airborne diseases such as Tuberculosis or Coronavirus. Negative pressure works by closing the door of the operatory during aerosol generating procedures; the unit sucks all the air through a bacteria- and virus-catching screen, which then kills the particle with UV light and then vents the clean air outside the building. This ensures no aerosols circulate into the rest of the office.
Instruments are heat sterilized to 375 degrees and kept in sterile packages until opened chairside for your appointment.
Extraoral high volume suction machine with HEPA filters and UVC sanitization to catch 99.95% of aerosolized particles.
Specialized Office AC/Heating using a MERS 13 HEPA filter installed in office AC unit traps bacteria and viruses including coronavirus
6 Molekule Air purifiers using PECO filter for disinfection of the air throughout the office. One is located in each operatory and each of the common spaces. These air purifiers are on 24 hours a day and clean the air in each room multiple times an hour to keep us all safe.
Plexiglas barriers at the check-in and check-out desks and consultation room
Full PPE gear is utilized by staff—including Faces shields, surgical masks, N95 respirators for aerosolizing procedures, and hospital-grade laundry service for scrubs and isolation gowns. Sterilizable shoes for clinical staff when performing aerosolizing procedures.
Meticulous Sterilization
Our patients can be assured that we follow all of the OSHA guidelines for sterilization techniques. We use hospital-grade sterilizers and test the equipment regularly to adhere to the strictest of protocols. Sterilization and safety are paramount. All wires and brackets are individually packaged and all instruments are sterilized and individually bagged.
For a Safe Orthodontic Treatment from a Caring Staff, Call Burlingame Smile Studio Today!
Dr. Lee and our staff care about giving you a straight smile in the safest conditions possible. If you want a personalized orthodontic treatment, with modern dental technology and safety protocols, call us at Burlingame Smile Studio today!