We have prescribed elastics for you to wear to help move your teeth and correct your bite. This is a special time in your orthodontic treatment where you have additional control over how well your treatment progresses.
Your treatment will progress the best if you follow these instructions:
Write Down Your Information: As soon as we give you elastics to wear, please make a record of the name of your elastics and how many hours per day we've instructed you to wear them. 
Continual Wearing: Wearing your elastics correctly is very important to keep your treatment going in the right direction. Make sure you are wearing the correct size and attaching them as you are instructed by Dr. Lee or our Burlingame Smile Studio team members.

You may experience discomfort at first; however, that should disappear as you wear your elastics continually.

Take Care When Eating and Brushing: You may remove elastics while you are brushing your teeth and eating. Make sure to replace them immediately.
Change Elastics Regularly: Replace your elastics if they break, and change them as we tell you. This will usually be at least once per day.
Be Prepared: Always carry extra elastics with you so you can replace broken ones right away.
Update Your Supply: Please don't run out of elastics. Call us and we will mail you some more. It is important that when you need more elastics that you ask for the correct name. Remember to keep a record of your elastics somewhere easy to find.
Remember, the better you follow these instructions at home, the faster your orthodontic treatment will work!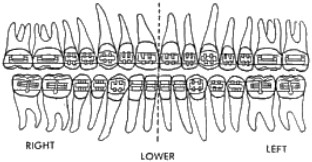 Call Burlingame Smile Studio Today for Additional Questions
If you need any more information about your orthodontic elastics, or if you need more elastics, call our office today!