If you're a Millbrae resident looking for exceptional orthodontic care, visit Dr. Lee and our orthodontic team at Burlingame Smile Studio near Millbrae! We're proud of our experienced, patient-oriented team, as well as our ability to offer up-to-date orthodontic techniques and technology. Call us today to learn how we can transform your smile! 
Orthodontics
Orthodontic procedures are centered on repairing malocclusion, straightening teeth, and improving a patient's natural bite. You don't need to live with an uncomfortable bite when your local orthodontist can fix your bite alignment, improve your oral health, and give you more confidence in your smile all at once!
Benefits of Orthodontics
Badly aligned teeth will often lead to problems or pain while biting, chewing, and even speaking. Fortunately, good orthodontic care today can prevent those problems before they even have time to develop. 
As well as preventing future dental problems, orthodontic care can give you a more attractive smile that you'll feel confident about.

What Is Malocclusion, and Does It Always Need To Be Treated?
Any kind of misalignment in your bite can be considered malocclusion. This could be an overbite, an underbite, crowded teeth, or any other condition that means your upper and lower teeth don't match well together.
If your malocclusion is very mild, your orthodontist might not recommend any treatment at all! But even if you think your malocclusion isn't too bad, it's important to get a professional opinion before making any decisions.  
If malocclusion is severe enough and goes untreated, it can lead to several uncomfortable side effects, including:
Discomfort while eating. 
Jaw pain.
Frequently biting your own cheeks and tongue.  
Tendency to breathe through the mouth instead of the nose, which can lead to dry mouth and gum disease.
Speech changes, including lisps.
Treat your malocclusion today to avoid all of these side effects before they happen!
Braces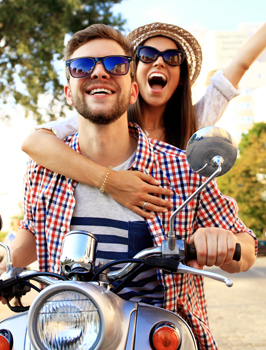 Braces aren't just for teenagers—this multipurpose orthodontic tool can be used to straighten teeth and correct misaligned bites for people of all ages. Braces are a great way to take control of your dental health and improve your smile.
If you receive traditional braces, the metal brackets and wires of those braces will gradually shift your teeth into a straighter, healthier position. These braces are worn constantly on a patient's teeth over the period of several months, and will leave you with a smile you're proud of.
At our office, we offer self-ligating metal braces and self-ligating clear ceramic braces—both of which are faster and more convenient than other metal braces options. We're happy to explain the differences to our patients so they can feel totally confident in the style of braces they choose.
Invisalign Clear Aligners
"She's very one-on-one with patients and cares about your needs."—Kay
If you are interested in straighter teeth but don't like the idea of people noticing your shiny metal braces, try an Invisalign treatment instead! Just like traditional braces, Invisalign clear aligners gently straighten teeth over the period of several months. 
Instead of using metal brackets to straighten a patient's teeth, Invisalign aligners use clear trays that fit closely over the patient's teeth. Just like those metal brackets, Invisalign aligner trays will gradually shift and straighten your teeth.
Why Choose Invisalign Aligners?
There are plenty of reasons that Invisalign clear aligners might be the best option for you. When you receive your Invisalign aligner trays, you can expect the following:
Nearly invisible orthodontic treatment that doesn't stand out in pictures or catch people's eye.
Smooth, comfortable trays.
Easily removable trays, which means no dietary restrictions and easy cleaning.
Treatment time that is comparable to—or shorter than—standard braces.
A treatment cost that is roughly the same as standard braces cost.
Who Is a Candidate for an Invisalign Treatment?
Invisalign aligners are a viable straightening option for almost everyone who has their permanent teeth and is looking for a straighter smile. However, the only way to know for sure whether Invisalign clear aligners are right for you is by scheduling an appointment with your orthodontist!
Looking for an Orthodontist You'll Love Near Millbrae, CA? Call Us Today! 
Orthodontics is more than just braces! At our office, you'll receive complete orthodontic care for the comprehensive dental health you need. Contact us at Burlingame Smile Studio today to schedule an appointment for straighter teeth and a healthier bite!