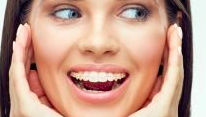 In a perfect world, our teeth would be evenly spaced and correctly formed. But we know we don't live in a perfect world. Many of us have crooked or uneven teeth. Even if you never had braces as a teen, though, you can still correct your bite with help from Burlingame Smile Studio. Getting braces is often seen as a rite of passage for teens and tweens. When adults correct the alignment of their teeth, we're afraid that we'll stand out. Having braces as an adult can make you feel self-conscious.
And yet, more and more adults are getting their teeth straightened with orthodontics. According to the American Association of Orthodontists, one of every five orthodontic patients is over eighteen. And at Burlingame Smile Studio, half of our patients are adults.
So join the club! Get your teeth straightened for both health and beauty reasons, and don't worry about having a metal-mouth.
At Burlingame Smile Studio, Dr. Lee provides several sophisticated braces options, including:
Invisalign: Invisalign braces consist of a custom-made series of clear aligners. You can maintain a great look with Invisalign braces for adults.
Self-Ligating Braces: Because In-Ovation System Braces are self-ligating, in addition to reducing discomfort and accelerating your treatment time, they can reduce the frequency of checkup appointments typically needed with the older "twin style" brackets. Self-ligating braces also come in both Metal and Ceramic styles for enhanced esthetics should your specific orthodontic case need to include braces for some duration of time.
Orthodontic treatment form Burlingame Smile Studio allows you to correct your smile, and to maintain a professional appearance while you're doing it.
We offer the highest quality orthodontic care in a personal, professional environment. Our services include Invisalign, In-Ovation System Braces, headgear, appliances, and retainers and we serve patients in and around San Mateo County, California area including the communities of Burlingame, Hillsborough, Millbrae, South San Francisco, San Mateo and San Bruno.Call us today for a consultation to see how we can help your smile.
CONTACT BURLINGAME SMILE STUDIO:
650-489-7181
LOCATION (TAP TO OPEN IN GOOGLE MAPS):