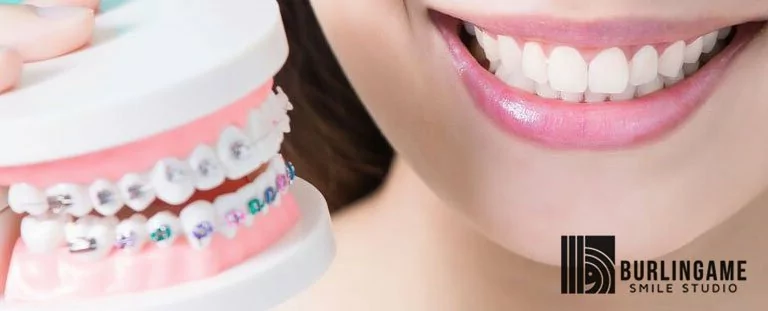 Picture: Shutterstock
DENTAL IMPLANTS AND BRACES: YOUR QUESTIONS ANSWERED
If you are a dental implant recipient, it is possible that you may need to receive some type of orthodontic treatment to optimize the placement and esthetics of your new dental implant. Patients often ask Dr. Lee whether or not it is necessary to place braces for placement of new or existing dental implants and the answer is both yes and no. In fact, it really just depends on the specific situation and whether or not Dr. April Lee thinks that braces need to be utilized for optimal implant results.
Dental implants are extremely beneficial for patients and they are used to replace teeth that may have been lost due to decay or even injury. The implants contain a titanium post that is surgically implanted into the jaw. Once the post heals and attaches to the gum below, your general dentist will attach a prosthetic crown to the top of it. This crown will function just like a natural tooth.
Some of the benefits of dental implants include:
Better overall comfort
Improved appearance and speech
Improved oral health
Convenience
Durability
Easier eating and chewing ability
Improved self-esteem
Below, we will discuss some of the many questions that we receive here in our office about braces and dental implants. If you have any additional questions, please do not hesitate to call our Burlingame office today.
BRACES FIRST OR DENTAL IMPLANTS FIRST?
If you are in a situation where you need to have both orthodontic treatment and dental implants, it is often recommended that you receive the braces and orthodontic treatment first. However, this may not always be possible if you are missing all or most of your teeth, which in these cases, implants may be suggested first.
Dental implants are unable to move once they have been placed in your mouth, which means that even with orthodontic treatment, the implants themselves will not move. Often, patients need to receive orthodontic treatment to create room for the dental implants, especially if their bone structure has changed over time.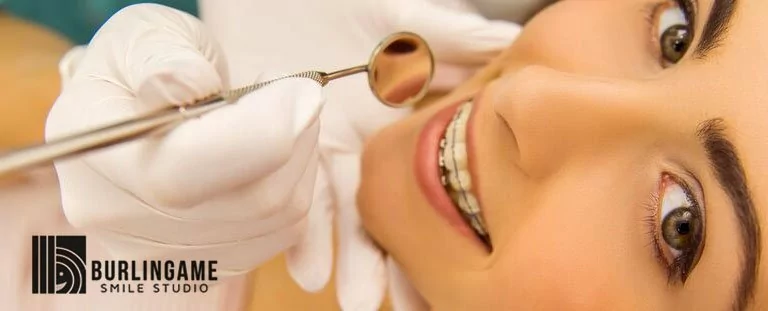 Picture: Shutterstock
CAN BRACES BE USED IF TEETH ARE MISSING?
It is possible to receive braces if you are missing a few teeth. Orthodontists have many options to make them work. First, if the teeth are not too far spread apart, it is possible to utilize braces and close in the gap where the tooth is missing from. This is often the patient-preferred method because it does not require any additional procedures and can save them the time and cost of a dental implant.
If the situation is such that orthodontics is needed to create adequate spacing for dental implants or to correct other crowding/spacing or bite issues braces can still be applied. In fact it is wise to correct any other concerns you may have about your bite or smile esthetics with braces or Invisalign first as any dental implants placed afterwards will look their best.
CAN BRACES BE ATTACHED TO CROWNS?
Patients who have crowns (aka caps) in their mouth often wonder if they can receive orthodontic treatment, and the answer is yes. It is never too late to straighten your teeth. Clear or metal braces can be applied on your crowns, and a special adhesive is used to make the bond between the crown and bracket.
Another wonderful option for patients who have crowns is Invisalign®, which contains a series of plastic, clear, removable containers that do not require any type of adhesive.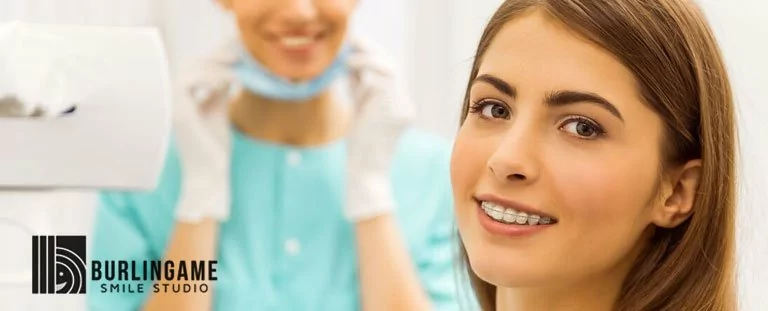 Picture: Shutterstock
BRACES AND DENTAL IMPLANTS
Dr. April Lee at Burlingame Smile Studio wants you to know that it is possible to receive orthodontic treatment with existing or for future dental implants, but it needs to make sense. Since the dental implant is unable to move once placed, braces will not work for that specific tooth, however, it can work for the other teeth around the implant to create a beautiful and straight smile.
Ideally, orthodontic treatment, including braces, will be placed on the teeth and the treatment completed before the implants are placed in the mouth. It is possible to leave room open for the dental implant during the orthodontic treatment process.
In some situations, it is okay to place dental implants before orthodontic treatment is received. One of these situations is when the teeth around the dental implant do not need to receive braces or treatment. It would be okay to place the dental implant(s) prior to braces.
Another situation where it would be okay to do dental implants before braces would be when the implant needs to be used as an anchor point for the braces. Without the dental implant there, the teeth would not be able to be positioned correctly.
SCHEDULE AN APPOINTMENT WITH DR. LEE TODAY
Looking for braces in San Francisco Bay Area? If you would like to learn more about dental implants, braces, or the combination of both, contact Burlingame Smile Studio in Burlingame, CA. Dr. April Lee is committed to working closely with her patients to provide them with the best dental care possible. Call us today to schedule your complimentary consultation with her.