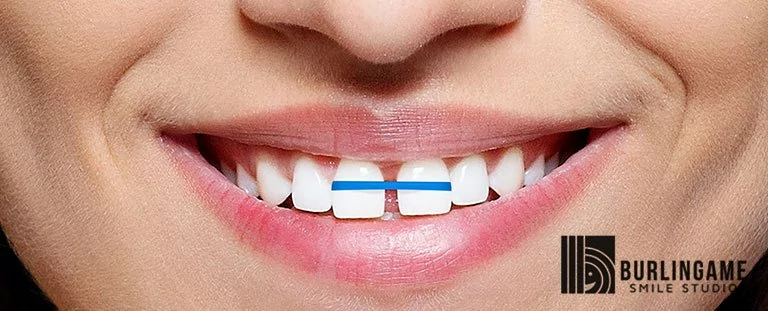 Picture: Shutterstock
DIY BRACES: WHY YOU SHOULD NOT PARTICIPATE IN THE TREND
The Internet is flooded with different new trends and ideas that kids and teens participate in. With the ability to reach millions and billions of people, individuals find YouTube and the Internet to be an easy way to make statements, show off fashion ideas, and more. While most of the things shared on the Internet are fun and lighthearted, there are some potentially dangerous ideas that circulate around.
One of the scary ideas and trends that is making its way around the Internet is DIY braces. Yes, you read that right. DO IT YOURSELF BRACES. The video originated from a girl who created her own set of braces with some earring backs. She is now receiving proper orthodontic treatment, but it is important that you do not try this.
Below, Dr. April Lee from Burlingame Smile Studio will talk about what DIY braces are and the risks that come along with them. Should you be in need of orthodontic treatment, call our Burlingame, CA office today to schedule a free consultation with Dr. Lee.
WHAT ARE DIY BRACES?
The idea behind these DIY braces is to provide yourself with orthodontic treatment to straighten your teeth without actually going to visit the orthodontist. This practice has been sensationalized by teens and can cause serious injury.
If you have ever seen videos for gap bands, DIY braces work in a similar fashion. One of the many things that teens do not understand is that while these gap bands and DIY braces look like fun and like they work, they can actually cause tooth loss.
Individuals often choose to try DIY braces because they want a boost of confidence. They want to have straight teeth and they may not have the means to receive braces. Many patients often think that braces are unaffordable and will never be an option for them. Sometimes, patients are teased at school because of a gap or crooked teeth and they are after a quick, solve all solution.
While the reasons may be there, DIY braces are NOT safe, and you should never partake in trying them out.
SAFETY LESSON: ARE DIY BRACES SAFE TO USE?
No. DIY braces are NOT safe and should NEVER be used. While it may be tempting and easy to brush off the dentist's recommendations that you do not try them, there are some serious reasons why you should not.
You risk permanent damage to your teeth. While your teeth may not fall out of your mouth from using DIY braces, although it is possible, you will likely suffer permanent damage to your teeth. The roots and gums will suffer the most damage unfortunately.
Movement with orthodontics is precise. When moving the teeth, there is precision required. In fact, moving the teeth too quickly can cause them to become damaged. If the roots resorb in the mouth, then they may dissolve, which can lead to tooth loss. DIY braces often lead to serious other dental issues such as issues with the jaw joints, clenching, shooting pain, and muscle spasms.
Orthodontists are trained for treatment. Orthodontists spend 10 years learning about the teeth and training to become an orthodontists. In fact, they spend two to three years just learning orthodontics alone.
Your teeth can fall out. We have mentioned it a couple of times, and it is true. DIY braces can cause your teeth to fall out. Gap bands or DIY braces can work their way below the gums on your teeth and end up around the roots. If this happens, your teeth can and will fall out.
WHAT THE AMERICAN ASSOCIATION OF ORTHODONTICS SAYS
The American Association of Orthodontics has recognized gap bands or DIY braces as a serious health issue and they have warned against it. It is important that you nor your teens partake in trying out this new trend. In fact, the AAO warns that tooth loss caused from gap bands can cost more than $20,000. Unfortunately, teens who do lose their teeth due to gap bands will need to wait until they are 18 to receive dental implants.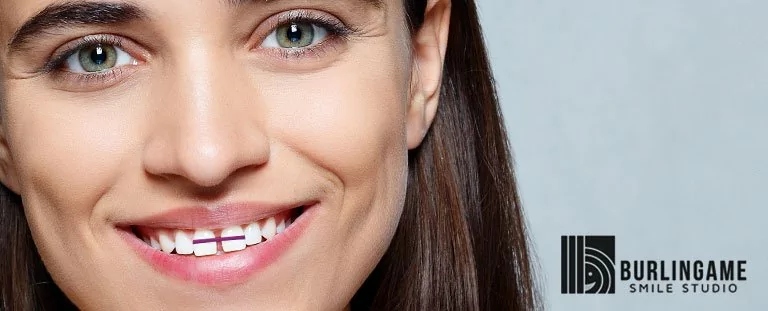 Picture: Shutterstock
YOU DO NOT NEED DIY BRACES
Now that you know why DIY braces are a serious concern, it is time to tell you that you do not need them either. If you do not think that you can afford orthodontic treatment such as traditional braces or Invisalign, there are additional options out there for you. Dr. April Lee wants to talk to you and discuss your options. Our dental office offers payment plans and financing options that can help you afford the orthodontic treatment you need. Dr. Lee will also discuss FSA (Flexible Savings Accounts) when visit the office for a free consultation.
At Burlingame Smile Studio, we will work with you to help you improve your smile and create a beautiful, healthy one that you are proud to show off. If you would like to schedule a free consultation or you would like to discuss the health of your teeth, contact our Burlingame Smile Studio today.