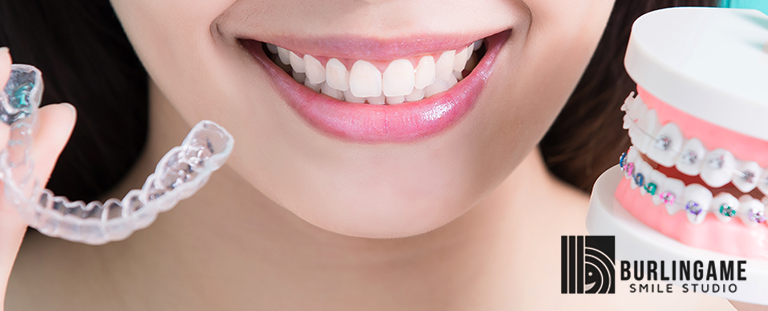 A visit to orthodontist Dr. April Lee at Contact Burlingame Smile Studio is a good start and she can recommend braces to improve the patient's orofacial appearance if needed. Through orthodontic treatment, problems like crooked or crowded teeth, overbites, underbites, incorrect jaw position, and disorders of the jaw joints are corrected.
Is There a Right Time For Braces?
Patients with orthodontic issues can benefit from treatment at almost any age. The optimum age is between 10 and 14 years of age, while the mouth is still growing, and teeth are more responsive to straightening. Since any adjustments to the face can be traumatic to a child during these years, parents should first talk about it with their children before braces are applied. More and more adults are also wearing braces to correct minor problems and to improve their smiles.
What Kind Of Braces Will I Need?
Your orthodontist will know which appliance is best for your situation, but the patient often has a choice. Braces generally come 3 types. The most popular are brackets, metal or plastic, that are bonded to teeth and are far less noticeable. The "lingual" type of braces consists of brackets that attach to the back of the teeth, hidden from view. Bands are the traditional type that covers most of your teeth with metal bands that wrap around the teeth. All use wires to move the teeth to the desired position.
How Long Do I Wear Them?
The more complicated the tooth spacing or bite problem is, and the older you are, the longer the period of treatment, usually. Most patients can estimate wearing full braces between 18 and 30 months, followed by a retainer for at least a few months to up to two years to set and align tissues surrounding straightened teeth.
Is Treatment Be Uncomfortable?
The interconnecting wires are tightened at each visit, producing mild pressure on the brackets or bands to shift teeth or jaws, gradually into the desired position. Your teeth and jaws may feel slightly sore after each visit, but the discomfort is brief. Keep in mind also that some teeth may need to be extracted to make room for teeth being shifted with braces and for proper jaw alignment.
Contact Burlingame Smile Studio, serving Burlingame, Hillsborough, and Millbrae.
Location (Tap to open in Google Maps):