Many of our Northern California patients who visit our dental clinic in Burlingame ask about the possibility of wearing clear aligners such as Invisalign® instead of traditional braces to straighten their teeth or fix orthodontic problems.  The answer to this question is: it is possible, but only in some cases.
In many other cases, conditions and malocclusions will not respond adequately to treatment with clear aligners alone.  Some malocclusions are so severe or complex, that they may require actual braces – and in some cases, other types of orthodontic devices – in order to achieve the necessary corrections.  
For patients with these conditions, Dr. Lee recommends Hybrid Orthodontic Therapy, which typically combines the use of braces with the use of clear aligners in order to achieve the best possible results in the shortest possible period of time.

How Does Hybrid Therapy Work?
Particularly for adult patients and older adolescents, one's facial appearance is a primary concern, and many adults reject the idea of wearing braces for an extended period of time.  
With hybrid therapy, patients may wear braces for a much shorter period of time during treatment, then continue their treatment with clear aligners until full results are achieved.  
Hybrid therapy simply means that more than one treatment modality may be used during treatment. Each type of orthodontic device offers its own set of advantages.  Hybrid therapy combines different devices in order to maximize all of their advantages.
In some cases, patients may require braces only on the top teeth while wearing aligners on the bottom teeth, or vice versa.  Others may require intermittent periods of having to wear braces followed by periods during which they wear clear aligners. In some cases, other orthodontic appliances such as palatal expanders, retainers, or spacers, may also be incorporated into the treatment.
The goal of hybrid treatment is to retain the best possible aesthetic appearance during treatment, while also minimizing the period of time that the patient has to be in treatment.  This means that the doctor will generally choose the most effective modality in order to speed up the efficiency of the treatment. Because braces can make corrections that aligners alone cannot make, in most cases, this will typically include a period during which the patient will wear clear or ceramic braces that are discreet in appearance while producing powerful changes in the structure of the teeth and underlying bone structure.  This period will typically be followed by a period during which the patient may wear clear aligners.
To help the patient look their best during treatment, the doctor may opt for options such as using easily camouflaged clear or ceramic braces, or braces installed on the inside of the teeth.  He or she may also combine braces with clear aligners, so the patient wears the braces for only a portion of the treatment time.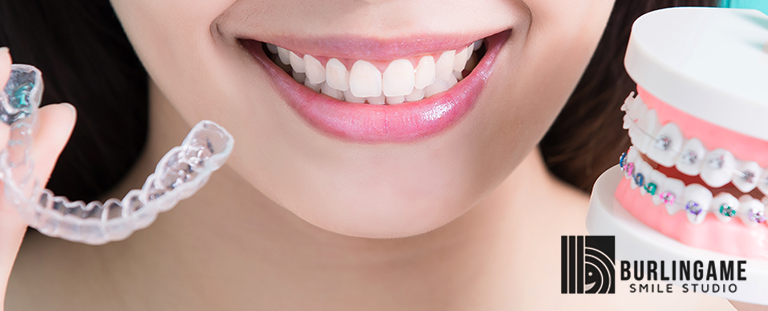 Picture: Shutterstock
What are the Main Reasons to Choose Hybrid Therapy?
There are many advantages to hybrid therapy, because each treatment is highly customized for each individual patient.
The most common reasons patients choose hybrid therapy are the following:
Hybrid therapy cuts back on treatment time when compared to clear aligner therapy alone.

Hybrid therapy treats problems that clear aligners alone cannot treat.

Patients spend a minimum possible amount of time in braces, reducing the discomfort associated with braces.

The Invisalign® or clear aligner phase of treatment is usually much longer than the braces period.

Cutting back the period of wearing braces makes dental hygiene and caring for your teeth much easier and more comfortable during treatment.
If you're interested in learning more about hybrid orthodontic therapy, contact Dr. April Lee at Burlingame Smile Studio in Burlingame, CA, serving residents of San Mateo, and the greater San Francisco Bay Area with comprehensive family dental care.