Many adult patients who have dreamed about a beautiful smile have deferred or declined orthodontic treatment over the years because when they sought a professional consult from another orthodontist, they were told that their cases could not be treated with Invisalign alone and that they would have to wear braces.
Requiring adults to wear braces, even clear ones can be reason enough for many adults to not embark on orthodontic treatment. What many patients don't understand is that more severe malfunctioning bites don't allow their teeth to fit together properly and it is the severity of these bites which excludes them for clear aligner (Invisalign) therapy alone. Malfunction of your bite can be due to crowding, spacing, or previous tooth loss and lead to future dental problems which are not only more costly than orthodontic treatment but also further decline of your smile.
SO WHAT IS AN ESTHETICALLY CONSCIOUSLY DRIVEN ADULT, OR ADOLESCENT PATIENT TO DO IN THESE CIRCUMSTANCES?
The answer is what I like to refer to as Hybrid Treatment.
What is Hybrid treatment exactly? It is combining the use of clear aligners such as Invisalign, with short durations of cosmetic clear braces to maximize esthetics and minimize the appearance of the braces.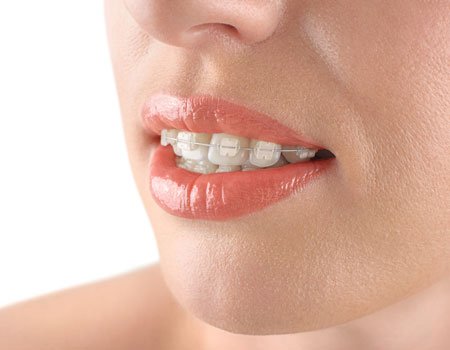 Typically the clear braces are only needed for a few weeks or months at either the beginning or the end of clear aligner therapy. Many times only braces are only needed on a few teeth and can be hidden in the back of the mouth where it is likely not to be noticed at all by friends or colleagues. If brackets do need to be placed towards the front your mouth we utilize the most esthetic braces on the market today to minimize the appearance of the braces while they are worn. Not all braces are the same, utilizing monocrystalline clear braces as needed provides the most discrete possible treatment for those short durations while the braces are on your teeth.
By using this combo approach many adults and esthetically driven adolescents will not need to compromise on either their final function or esthetic results. It is important that your orthodontist not only addresses and corrects your chief complaint of crowding or spacing, but also addresses your bite concerns so that your results will be long lasting and beneficial to your overall health moving forward.
Here is a recap of the benefits of hybrid aligner/braces treatment.
Minimizing the time required in braces thus maximizing the esthetics while you undergo orthodontic treatment.
Maximizing your time and comfort in the invisible, removable clear tooth aligners (ie Invisalign) phase of treatment.
Allowing for easier care and dental hygiene of your teeth while in treatment.
Reduced discomfort and emergency visits related to your braces or poking wires.
Best possible functional and esthetic smile outcomes without compromise.
If you have been previously told that braces is your only option for correcting your smile then I highly encourage you to reach out to Dr. April Lee today to discuss your options at Burlingame Smile Studio, 650-231-2680 or info@burligamesmilestudio.com. We look forward to hearing from you!