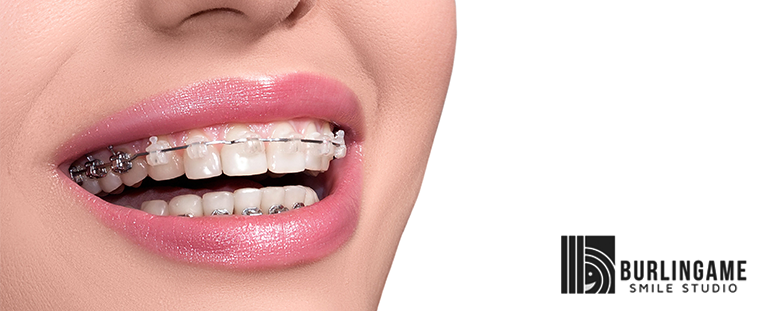 Self-ligating braces contain a built-in solution to secure the wire to the brackets. Sometimes they are called "self-ligating brackets." Dr. Lee at Burlingame Smile Studio can help you decide whether self-ligating braces are a good option for you.
Contact Burlingame Smile Studio
This method is different from traditional braces, where tiny elastic bands are attached to the brackets to hold the wire in place, and these are called ligatures.
It's also important to know that there are two types of self-ligating brackets called "active" and "passive." Both types use a small or gate or lock mechanism to snap closed over the bracket:
Active brackets use a sliding spring clip that presses against the wire, with active force.
Passive brackets use a simple sliding mechanism, and they don't press on the wire.
Will they require tightening?
Like regular braces, self-ligating ones will still require adjustments. During these periodic adjustments, your orthodontist will evaluate your progress and may also adjust or replace your wire.
Adjustments can modify the force placed on your teeth, helping them to gradually move into their new positions.
Do they hurt?
Like regular braces, self-ligating ones can include some pain or discomfort. This may be more obvious when they are first installed or after you've had an adjustment done.
Self-ligating braces can result in less discomfort than regular braces if the patient is consistent with oral hygiene while wearing them.
Research shows that people with regular braces tend to report more pain than those with self-ligating braces, this difference is not significant.
Benefits of self-ligating braces
There are several potential benefits to using self-ligating braces including
Shorter orthodontist visits. For traditional braces, individual ligatures must be replaced during an adjustment, whereas opening and shutting self-ligating brackets during an adjustment is much quicker.
Easier cleaning. Ligatures tend to trap food particles around the brackets, but the absence of ligatures in self-ligating braces may make them easier to clean.
Less pain. It's possible that you might experience less pain with self-ligating braces than with regular braces.
Cost of self-ligating braces
Overall, self-ligating braces can be more expensive than traditional braces, since they use a more advanced type of technology.
Other factors that may contribute to cost include things like the amount of correction that's needed and the total length of your treatment.
Who should get self-ligating braces?
Whether you get self-ligating braces can depend on factors like your specific condition, your orthodontic treatment plan, and your budget.
Dr. Lee can work with you to determine whether self-ligating braces are a good option for you.
Contact Burlingame Smile Studio, serving Burlingame, Hillsborough, and Millbrae.
Location (Tap to open in Google Maps):