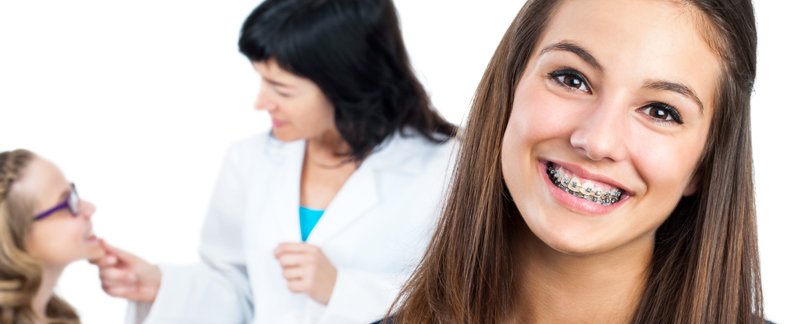 What is Orthodontics?
Orthodontics is a branch within the dental field that helps to correct teeth that are in the improper place. You are likely to have witnessed teeth that are improperly placed such as crooked teeth. When teeth are crooked, they do not sit the way they are supposed to, and it makes it harder to keep them clean. Crooked teeth are more susceptible for periodontal disease and tooth decay. In addition, extra stress may be placed on the chewing muscles, which can lead to serious headaches. Patients may also experience back pain, neck or shoulder pain, as well as TMJ.
Orthodontics offers many benefits to patients which include a healthier appearance, mouth, and teeth that will last your lifetime. A specialist in orthodontics is called an orthodontist and will receive an additional three years of education beyond that required of a general dentist. All orthodontists must attend a school accredited by the ADA.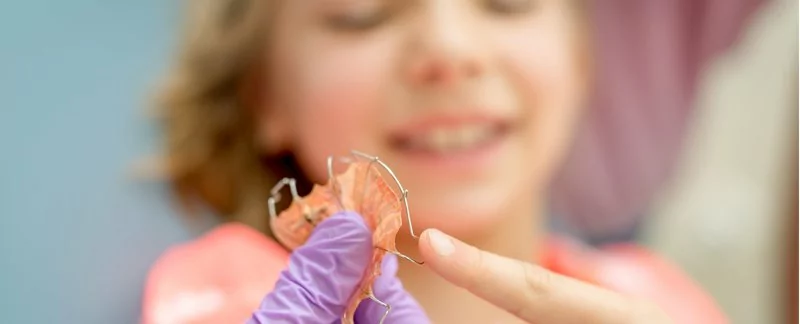 How Do You Know if You Need Orthodontics?
Only your general dentist or an orthodontist can determine if you need to have orthodontic treatment. Your dental history will be evaluated, and tools will be used to determine if orthodontic treatment is right for you. Often times, a mold of your mouth and specialized x-rays will need to be taken too.
Below, you will find several conditions that may make you a candidate for orthodontic treatment.
MisplacedMidline: This is a condition when the center of your upper front teeth do not line up with the center of your lower teeth.
Overbite: Often called buck teeth, this occurs when the upper teeth sit too far forward over the bottom teeth.
Crossbite: This is when the upper teeth do not come all the way down in front of the lower teeth when you bite together.
Crowding: This occurs when the teeth are too close together and the dental ridge is unable to accommodate them.
Underbite: Often called a bulldog appearance, this is when the lower teeth stick out further than the upper teeth.
Spacing: Spaces and gaps in the teeth can occur, and treatments can help to eliminate the gap.
Orthodontic Treatment: How Does It Work?
There are many types of orthodontic treatment options from dental appliances that are removeable or fixed down to appliances that can restrict movement of the jaw or even the teeth, when needed. All of these appliances will provide you with the effective treatment you need and Dr. April Lee will work with you to determine the right appliance for your dental needs. The exact problem you experience will dictate the best treatment for you. Below, we will take a look at some of the most common appliances.
Fixed Appliances:
Braces – this is one of the most common fixed appliances. Braces are made up of clear or metal brackets and wires. Typically, braces are bonded to the front of each tooth and then a wires is then passed through each of the brackets to create the force needed to shift the teeth into their proper position. As time moves on, the arch wire will need to be changed or adjusted in order to keep the teeth moving into their final proper position.Braces today are not as bulky as they used and esthetic options such as clear braces has made braces much more desirable to wear.
Fixed Space Maintainers – When a baby tooth is lost too early, a fixed space maintainer is used to hold the spot open until the new permanent tooth starts to erupt. A band will be attached to the tooth in the empty spot and a wire is then extended onto the other side of the space.
Special Fixed Appliances – These appliances are used to put an end to tongue thrusting and thumb sucking. These appliances are often attached to the teeth via a band(s). These appliances can make eating and drinking difficult, so they are only used in serious cases.
Palatal Expander – This is a device worn on the upper arch area of the upper jaw. It is a customized metal plate that fits perfectly on the roof of the mouth. Outward pressure is then applied via screws that force the growth suture in the upper jaw to open more and create more room for the developing teeth.
Removeable Appliances:
Removeable Space Maintainers – These devices are similar to fixed space maintainers, except they come out of your mouth. These devices are made from acrylic and they fit over the jaw and come with wire or plastic branches between teeth to leave the space open.
Headgear – This is a device where the strap is placed behind your head and attached to a metal wire in the face bow or front. The headgear works to slow down the growth of the upper jaw and it holds your teeth back in the position where they need to be.
Reverse Pull Headgear – This is a device where a face mask which looks like a paired down version of a baseball's catchers mask is used along with two rubber bands to encourage more upper jaw growth. This allows the upper jaw to catch up with the lower jaw growth. This device is most commonly used with kids who have underbites.
Invisalign Aligners – These are a wonderful alternative to braces and typically recommended for adults and teens. Aligners work to gently move your teeth into their correct position. You can remove aligners whenever you need to and they should be removed when you want to floss, eat, drink, or brush your teeth. To date they are the most esthetic and comfortable option to correcting your bite.
Removeable Retainers – This device is worn on the roof of your mouth and they work to prevent the teeth from moving back into their original position. These retainers are often used to help prevent thumb sucking too.
Lip and Cheek Bumpers – Bumpers are designed to help keep the cheeks and lips from the teeth. Often times, the muscles in your lips and cheeks can place too much pressure on the teeth and these bumpers work to relieve the pressure.
Jaw Repositioning Appliances – Often referred to as splints, this type of device is worn on either the top or lower portion of the jaw, whichever is more favored by the patient. These devices are used for TMJ.
If you or a loved one is considering orthodontics and you would like to schedule a complementary consultation with Dr. April Lee please call us at (650)231-2680. Or reach us by email at info@burlingamesmilestudio.kinsta.cloud.