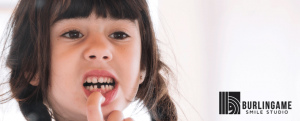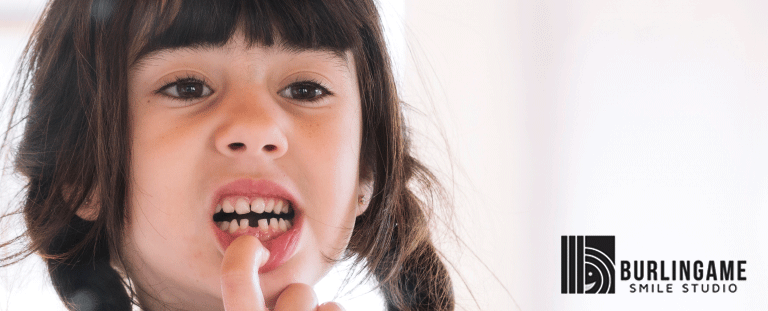 Dr. April Lee at Burlingame Smile Studio, serving Northern California, recommends that parents schedule an orthodontic examination at age 7. This follows the recommendation of the American Association of Orthodontists. While this may seem early to those of us who had braces in high school, experts agree that having an orthodontic consultation at age 7 may prevent future issues.
By age 7, permanent teeth have typically started to come in. Since a child's facial bones are still growing, this is an excellent time to evaluate their teeth.
Reasons for Early Treatment
Helping permanent teeth emerge correctly
Guiding dental arches and jaws into better positions
Creating room for new teeth
Minimizing future orthodontic treatment
Methods for Early Treatment
Habit appliance that stops thumb sucking
Palate expanders (an appliance that widens the jaw)
Baby tooth extraction
Braces
If Dr. Lee sees any issues in your child's exam, she can decide how best to treat them. It's good to schedule an initial consultation to see if your child has any orthodontic issues, or not.   Growing up with straight teeth is important for your child's future. Studies have shown that a confident, beautiful smile contributes to self-esteem. Having straight, evenly spaced teeth also helps with dental hygiene – it's easier to brush and floss. And finally, having teeth that fit together correctly puts less strain on your jaw, which can lead to TMJ and headaches.
We offer the highest quality orthodontic care in a personal, professional environment. Our services include braces, Invisalign, In-Ovation System Braces, headgear, appliances, and retainers and we serve patients in and around San Mateo County, California area including the communities of Burlingame, Hillsborough, Millbrae, South San Francisco, San Mateo and San Bruno.
To schedule an orthodontic consultation, call Burlingame Smile Studio today.
Contact Burlingame Smile Studio:
650-231-2680
Location (Tap to open in Google Maps):