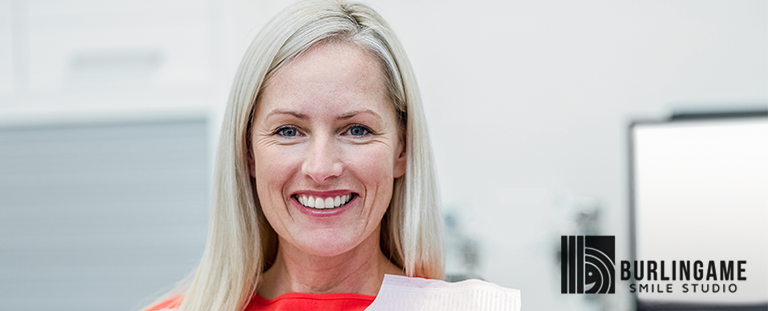 What exactly is an orthodontist?
We associate a perfect smile with overall good health, and it is true that oral health plays an important role in your overall health. Misaligned teeth can lead to dental problems, including decay, gum disease, pain. Schedule an appointment with Dr. April Lee at Burlingame Smile Studio to learn more.
Not everyone is born with perfectly straight teeth. If you have misalignment or large spaces between your teeth, you may want to consult an orthodontist.
An orthodontist is a dentist with additional specialized training to prevent and treat tooth and jaw anomalies. They can repair existing conditions and are also trained to identify problems that may develop in the future, and they work with people of all ages, kids, and adults.
What does an orthodontist do?
Orthodontists use dental devices like braces, retainers, and bands, to move the position of teeth in the mouth. They help resolve dental problems, including:
Crooked teeth
Bite alignment problems
Crowded teeth, or expansive teeth
Jaw misalignment
The goal of orthodontic care is to improve a patient's bite and smile. Teeth that are straight and evenly spaced will align easier with their opposite teeth in the mouth. A correct bite ensures you can eat and speak properly. In the past, seeing an orthodontist was typically seen by teenagers who needed braces. However, they can correct tooth alignment issues and dental problems at any age.
Required training
Orthodontists have graduated from dental school and also orthodontic school. After graduation, they spend two or three years in a residency program. This additional training is essential because most dental schools offer limited orthodontic instruction.
These residency programs offer intensive, focused instruction for dental specialists. They focus on two disciplines:
Orthodontics: how to move teeth correctly and safely
Dentofacial Orthopedics: how to guide the overall development of the teeth, jaw, and face
Once an orthodontist has completed training, they can choose to become board certified. In the United States, this certification is voluntary.
Reasons to See an Orthodontist
Misalignment of teeth is the most common reason people visit an orthodontist. It's usually hereditary and is the result of size differences between the upper and lower jaw, or between the jaw and the teeth. It can lead to crowded teeth, a misaligned jaw, or irregular bite patterns.
Contact Burlingame Smile Studio, serving Burlingame, Hillsborough, and Millbrae.
Location (Tap to open in Google Maps):