Picture: Archive
Imagine being able to straighten your teeth at home – sounds like a dream, right? Well, it is possible, BUT it can have worse effects on your teeth and Dr. April Lee from Burlingame Smile Studio wants to warn you to avoid these "at-home" options at all costs.
SmileDirectClub is a popular company that is taking the orthodontic world by storm, but, not for good reasons. The concept behind the DIY braces is that you can straighten your smile at home and you have the convenience of not visiting an orthodontist. The invisible aligners are sent to you and essentially, you straighten your own teeth.
So, what could be wrong with that idea? Dr. Lee puts out a STRONG WARNING to her patients to avoid any type of DIY braces as they can cause more harm than good. Braces, whether the traditional metal option or clear aligners, are intricate and you cannot just put some on and watch the results take place. There is a lot of time, science, and knowledge that goes into creating the proper treatment plan custom to each person's mouth and malocclusion them and Dr. Lee has the training needed to deliver a beautiful, healthy, stable smile.
SmileDirectClub appeals to many patients who are eager to improve their smiles at a lower price point. The way it works is the patient either visits a SmileShop to have their mouth scanned or they take an impression at home and send it in for the aligners to be made. Dr. Lee warns that this is a red flag. The person taking the scan or mold is either yourself who presumably has no formal dental education, or a dental tech in the store setting who is not a doctor, and not a person licensed or qualified to treatment plan the movement of your teeth. Broad assumptions are made about your general health, dental health and tooth movements possible because these companies and those directing your care have never examined you or your bite! These factors can easily lead to serious consequences later down the road during treatment.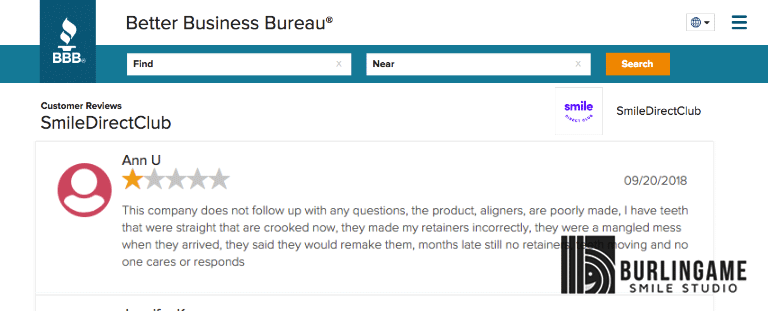 Picture: Archive | Source
A consumer alert has been created that warns against DIY dental options such as what SmileDirectClub offers. Orthodontists from all over, including Dr. Lee, want to warn you that these DIY options are MORE dangerous, and they can cause lasting damage to your teeth, gums, and overall smile and oral health. In addition, the ADA warns about these DIY options and they strongly discourage the practice of using them.
Dr. April Lee believes it is important to point out that SmileDirectClub has an average rating of a 3 out of 5 on the BBB and the company has received more than 520 complaints in the last 3 years with over 370 of them being within the last 12 months. The highest number of complaints includes problems with the product or service offered.
Many of the customers who have complained about SmileDirectClub say that the products do not work, the timeline for treatment are inaccurate, and the aligners are made poorly.
Dr. April Lee is an experienced and trained orthodontist that is committed to providing patients with a beautiful smile in a safe manner. We invite you to come into our office here in Burlingame to discuss your options.
Call Burlingame Smile Studio today to schedule an appointment with Dr. April Lee today!