For adult or adolescent patients who have postponed orthodontic treatment because they've been told that to correct their orthodontic problems they would require braces, or because treatment with clear aligners such as Invisalign would be too lengthy and expensive, I can proudly say that my office offers another option.
Wearing visible, traditional metal braces is not a reasonable option for many adults, and even for some adolescents, due to the pressures of maintaining an image in certain professional environments, or simply the level of self-consciousness that one may experience when it comes to facing the world wearing braces.
But in fact, if you've been told that you have severe malocclusion or a severely malfunctioning bite, chances are that the severity of your condition means that clear aligner therapy alone will not provide a sufficient degree of correction.
Malocclusions may be caused by overcrowding or improper spacing between teeth, or the loss of a tooth that often leads to more advanced dental problems.  Not treating malocclusions and other problems affecting your bite can ultimately become far more expensive in the long run than undergoing orthodontic treatment, and may also cause further damage to your smile and appearance.
Letting these problems go untreated may also affect function and comfort, potentially limiting your ability to enjoy certain foods because your malocclusion may not allow you to chew properly.  This means that seeking treatment to correct your malocclusion is essential, because malocclusion and problems with your bite can lead to more complex health problems in the future.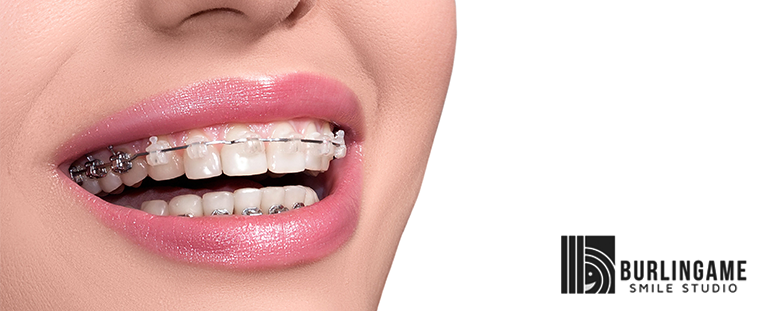 Picture: Shutterstock
The Hybrid Option
This is where that other option comes in:  My practice at Burlingame Smile Studio provides a treatment known as Hybrid Orthodontic Therapy, which combines clear aligners with clear dental braces to achieve optimal results in a much shorter period of time, also saving patients money in the process, and sparing you from having to face the world wearing traditional metal braces.
Hybrid orthodontic treatment is a unique approach to orthodontic therapy that primarily uses clear aligners such as Invisalign to align teeth, but intersperses the use of these aligners with short periods during which you'll wear clear cosmetic braces to help speed the process along and treat malocclusions that don't readily respond to clear aligners alone.
Typically the patient will only need to wear clear braces for a few weeks or months, generally at the beginning or at the end of the treatment with clear aligners. In some cases, the braces may be required on only a few teeth, and may be easily hidden in the rear of the mouth. In cases where we do have to place brackets in the front of your mouth, we utilize the most esthetic braces on the market today, which are clear and nearly invisible.
Because not all dental braces are created equal, the use of monocrystalline clear braces provides the most discrete treatment possible for those short periods during which you will need to wear the braces.
What Makes the Hybrid Option Better?
Hybrid Orthodontic Treatment provides the following benefits and advantages for patients:
Reduces the total treatment time over treatment with clear aligners alone
Reduces the time patients must spend wearing braces
Reduces cost of treatment in many cases
Clear, removable tooth aligners provides maximum comfort and convenience
Removable aligners allow for better dental hygiene than standard braces
Reduced emergency visits for problems with loose or broken brackets or poking wires
Aligner adjustments are completed via a simple 5-minute 3D scan
Most treatment with clear aligners are completed in 3-4 months
Improved patient compliance
If you have been previously told that wearing braces is your only option for treating your malocclusion and achieving a straight, healthy smile, then I highly recommend you reach out to Dr. April Lee today to discuss the Hybrid Orthodontic Treatment option at Burlingame Smile Studio.  Call us today at 650-231-2680 or email us at info@burligamesmilestudio.com. We look forward to hearing from you and helping you feel proud of your smile!